EDIT November 11th 2014

YES I KNOW NARUSAKU IS NOT CANON!
But this does not mean all the reasons listed below does not give NaruSaku fans reasons to believe in what we did. We had DEVELOPMENT starting from chapter 3 before any other ship was introduced. If you are going to comment about how NaruSaku did not happen in a negative fashion I am going to hide your comment and block you.
------
EDIT: June 18th, 2012. I finished most of the journal!

AND 65 FAVORITES!?!
Holy shet guys!

And why is it getting more pageviews than my art?! Your all jerks! JK JK! I love you guys!

I seen this journal linked all over the place. On forums, websites, comments, tumblr, facebook and more. GSAFSYGKA!!!
*Let me love you*
this is a WIP Journal so if you have anything to add, send a link to the manga chapter and your personal opinion!
EDIT 2: Dear NaruHina fans. I know you say Sakura is nothing like Kushina. That's fine, but you are doing the same exact thing. Take the plank out of your own eye before judging.
Edit 3: August 30th, 2012: 127 favorites?!












Remember, this is only a one sided view focusing only on the NarutoXSakura MinatoXKushina portion. It is created only to discuss, critique, reference and/or simply to just hold onto and encourage. It is not to discourage other pairings, it is to understand where some NaruSaku fans get their faith in their pairing and why. This is not solid proof as to NaruSaku happening in the end.









































Most images have links when you click on them to the chapter I took it from so you can see the chapter for yourself. You can also right click, "copy image link" and paste the URL for a full view of the image.

Lets face it, Kishimoto is not making any pairing solid between team 7 (at the moment) but the main thing that I found recently are NaruHina/SasuSaku fans claiming that Kushina and Sakura are nothing alike and are two completely different characters so we shouldn't even compare them. Yes and no. They are two different characters with different backgrounds but they do have similar traits. Compare and contrast. Kishimoto is the one who started the "comparing" rampage by this one panel: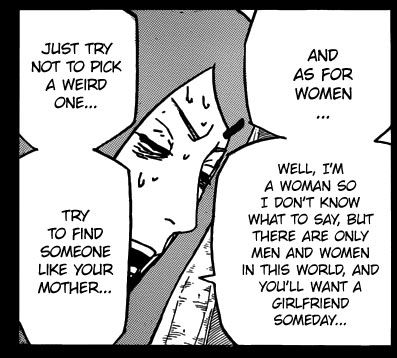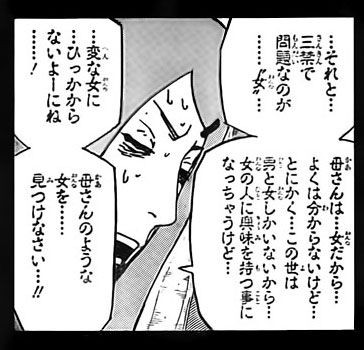 "のような" = Like
Used in a general term to compare two simulates.
の・ようなもの No Yōna Mono = Something like it

Question #1. How do you know she doesn't mean finding someone like Kushina found Minato?
CONFIRMED: In the original context, Kushina IS referring to finding someone like her personality wise. I had a friend, who is Japanese, translate and tell me what he thought. He is not into the Naruto manga and even asked me afterwards where the page was from. So this is not a bias statement, it is fact.
 
To be honest, I really believe (most would) that Kushina is talking about personality....not looks. Maybe a little bit of background because it shapes who they are but not always. Hinata was a shy and insecure person before she got the "hard times" when her father found no favor in her. Her "problems" are not what shaped her, she was shaped as a shy and insecure individual even before her father and Hanabi. I am talking about backgrounds that shaped a person personality wise. This is why I do not find Hinatas "problems" a good comparison with Kushina since she was shy and insecure before which caused her problems.
Personality:
Attitude
We can agree that Sakura and Kushina both have a hot-tempered attitude, one that is short fused and competitive. Both lashing out on the closest victim or the target when their fuse is cut short by insulting words or an action.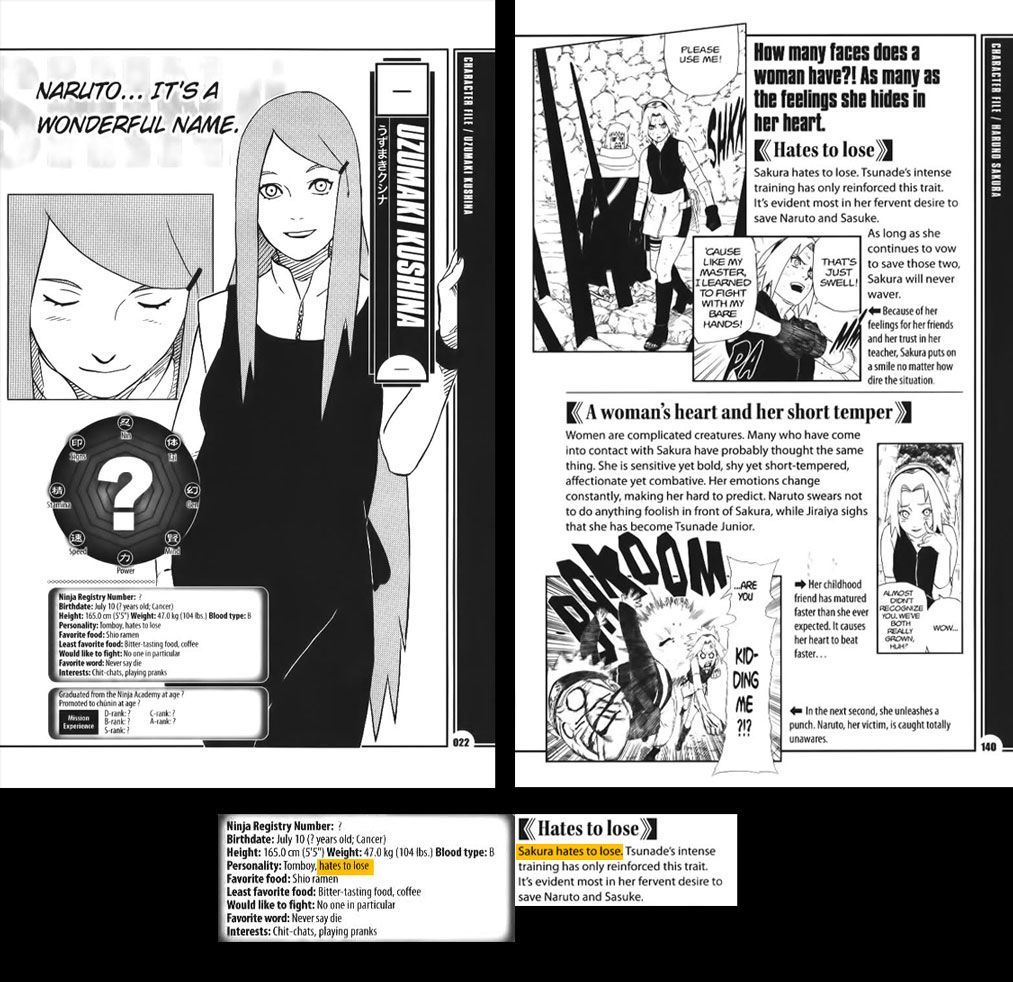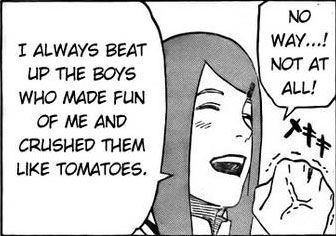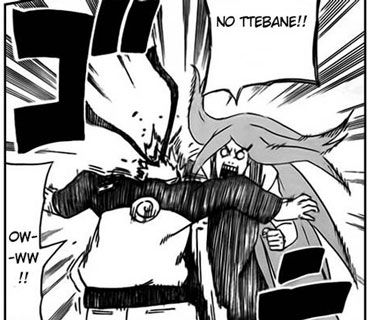 *Note: Kushina beat up the boys who made fun of her as a kid. Sakura did not do that to the girls (Ino did for her). Though, since she gained confidence from the experiences, she does lash out on whoever makes fun of her now i.e. Naruto, Konohamaru and Sai.
Road to Ninja
Twice in Road to Ninja Kushina lashed out at Naruto:
The first time in the Hokage office and she punches him for saying something insulting.
The second is at the family residence when Naruto wouldn't eat and Kushina broke down his door and yelled at him.

Question #3: "Kushina beat up the people who made fun of her but Ino did that for Sakura."
Right-on but Sakuras bullies were female and Kushinas were male. Maybe that made a difference, maybe it didn't.
 
Kushina didn't need a guy to fight off those who made fun of her. She lashed out, like what Sakura does to Naruto. We also learn that Kushina and Minato had been in some arguments during their relationship when they were both alive which would be normal for a realistic relationship. Kushina even stating that she always won the argument except this one time: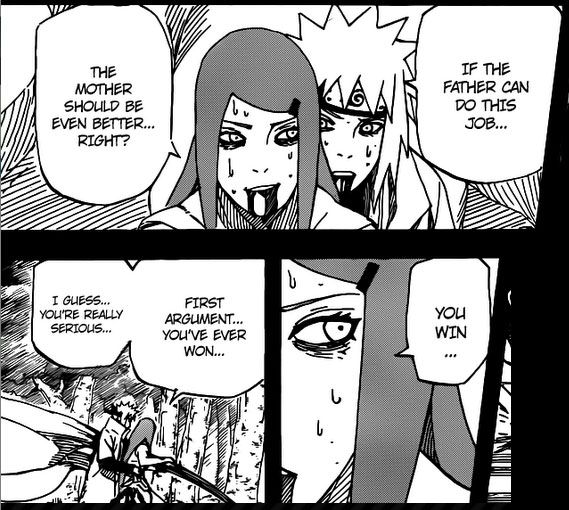 I have heard time and time again about the NaruHina argument that "I don't like Sakura because she doesn't treat Naruto right, Hinata loves him and would never do or say such things to him". Minato was probably was an innocent guy in these arguments but Kushinas heated attitude probably made her hard headed and nearly impossible to win against. Kushina admits to being impatient.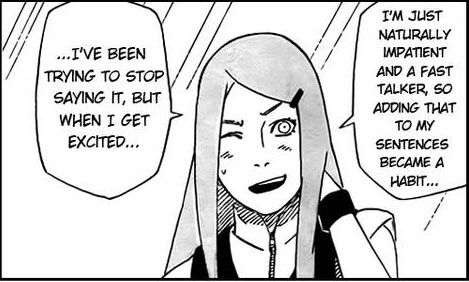 When Kushina and Sakura get excited, they also have a verbal tick:
Dattebane'
(Kishimoto states Narutos word Dattebayo (Kushinas Dattebane) has no meaning but says "That isn't really modeled on anything either. When I thought of childlike speech, "dattebayo" instantly came to mind. It's like it's become a part of Naruto, and even now it brings out his "mischievousness".)
Shannaro
(Loosely translated to Hell Yeah, Bastard, Fuck Yeah in English translation in the manga)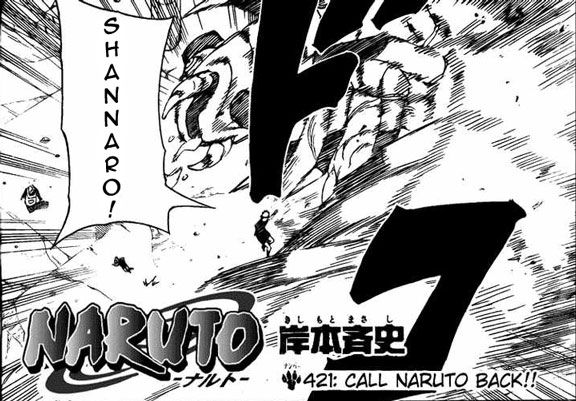 Not to mention when they both got excited and encouraged Naruto, their poses replicate eachother: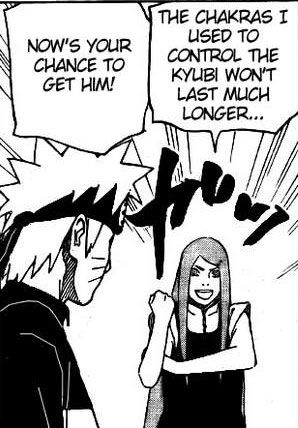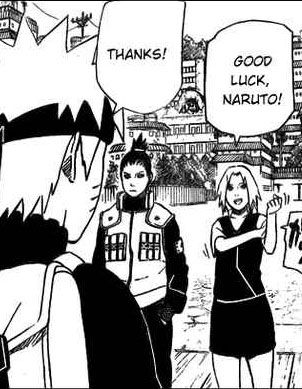 Minato and Naruto
At one point, Kushina had not liked Minato, even looking down on him just as Sakura had done to Naruto.
We know this is the opposite of what Naruto was trying to do. He was trying to get her attention not to see her struggle but to get her to see him. This is also why he is probably trying to bring Sasuke back, because he wants her to see he understands her pain and wants to fix it.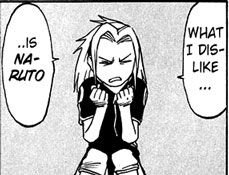 Kushina explains it was because she was young and didn't know better. Unlike Kushina, Sakura learned to slowly break down those walls she had for him after Sasuke had rejected her, calling her annoying:

Sakura later encourages Naruto more times than Hinata has even appeared in the manga. She even encourages (internally) for Naruto to show everyone that he is greater than what everyone thinks. She doesn't falter when it comes to faith in his ability in the preliminary exams:
The Scary Mom Effect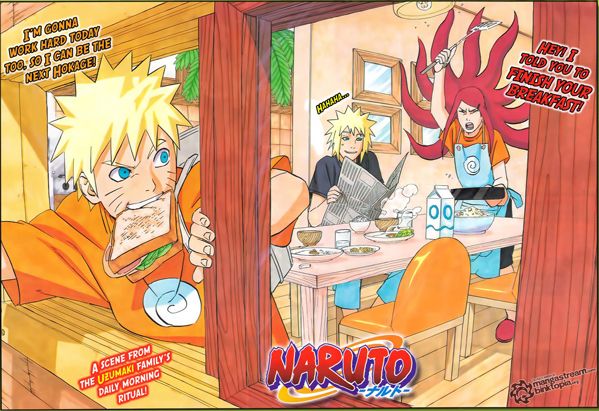 There was one thing that I found that helped me laugh about Kushina as a mother which is repeated in the series: moms are scary! And was it not Shikamaru who asked his dad what he saw in his mother? Shikaku replied saying that there are times when she is gentle, implying that she's not as tyrannical as her son perceives her to be.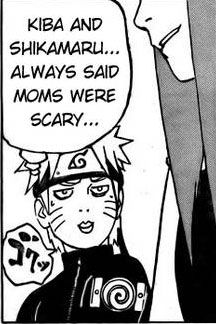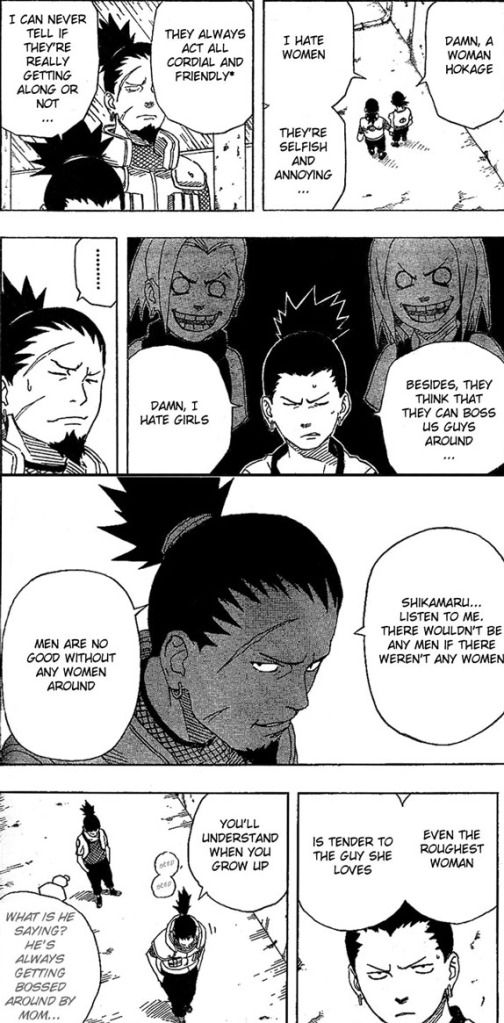 I have had NaruHina fans ask this A LOT about NaruSaku and what we see. Well, if you aren't looking, you wont see why. We see a gentle side of Sakura that puts Naruto above even Sasuke. The Heaven and Earth Bridge scene was a great example. Sakura ran after Naruto, knowing full well she could die but his well being was more important. Not to mention she knew the reason he got this far in his beast mode...Sasuke. She was willing to put Narutos safety above Sasuke, telling him she will get Sasuke alone
FOR
Naruto. Not for herself, for Naruto.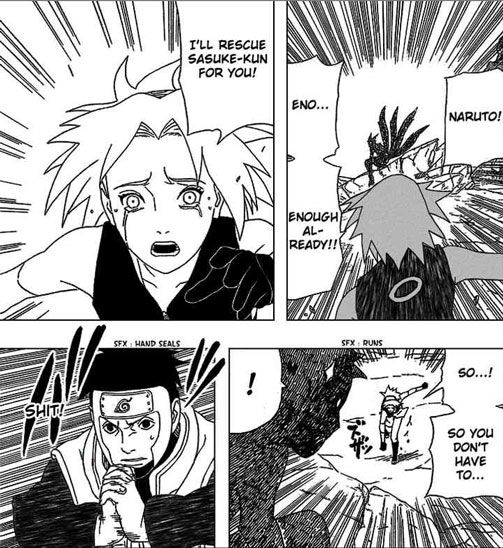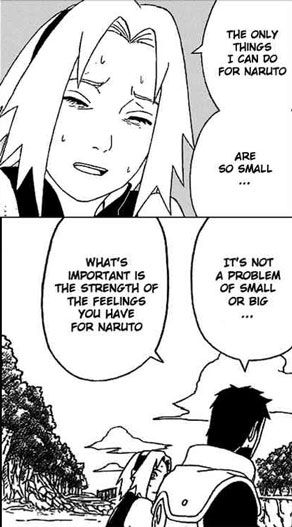 (And Naruto has no idea what Sakura did and her conversation in Yamato here.)
More than once has Sakura been caught admiring Naruto, enjoying his presence. She is not all "evil", "mean" and constantly hitting Naruto or abusing/putting him down like a lot of NaruHina fans tend to say. Sakura genuinely cares about Naruto. She has a different way of showing she cares.
(13 and 16 year old Sakura admiring Naruto. Both times Naruto didn't see this.)
So Sakura cares about Naruto. She is seen caring and supporting him far more than we see her put him down. If someone only views the negative side of Sakura, they are like Shikamaru, ignoring the good qualities and hopefully one day they would become neutral and see both sides.
But I will say this:
Sakura would be one scary ass mom!

Question #4: Sakura and Naruto would be like two Kushinas. It doesn't work, now does it?.
Look at Sakura parents. Kishimoto crated Kizashi as a light hearted, carefree man who Sakura gets annoyed of because of his lame jokes. Mebuki, her mother, is stern and strong. She was inspired by Japanese Yankees which means her mom was a troublemaker and delinquent at one point. Kishimoto even stated that he created them so they would "bicker" and Ino stated they were "intense as always". Get a carefree guy who jokes around and a stern women and you get someone simular to Naruto and Sakura (still with differences to make individuality).
 
Insecurities
One thing that I noticed was that Kushina and Sakura both had a physical quality that they did not like. Kushina, it was her hair and for Sakura, it was her forehead to which the guy that they did not admire and made fun of had complimented them on it.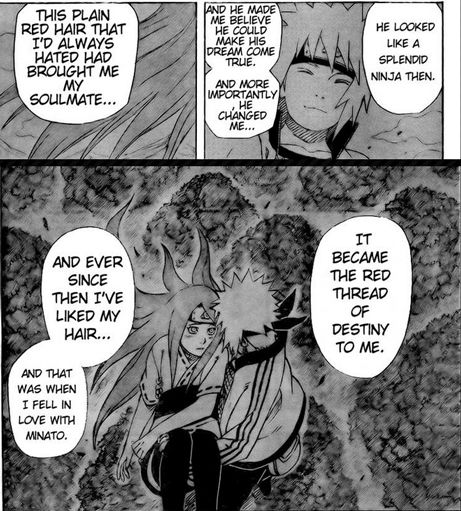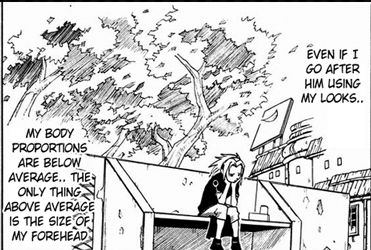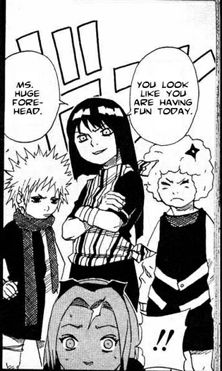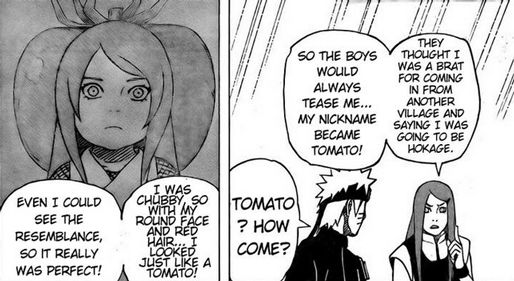 Who was the first to compliment Sakuras forehead? Who was the first to compliment Kushinas hair?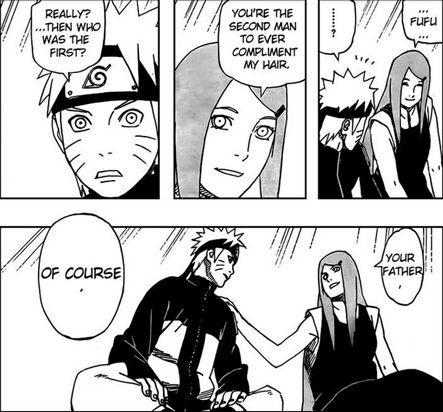 (Naruto disguised as Sasuke)
The one thing I do get from the bench scene is that what Sakura is looking for in Sasuke is not who he is. Sakura searches for reassurance in a guy, verbal compliments and acceptance. I think Sakura would still be like that in a relationship throughout her life and I can never see Sasuke fulfilling that thirst Sakura has. Naruto, on the other hand, is the kind of person Sakura is wishing Sasuke was.
Several times Naruto had made hints and expressed his love for Sakura.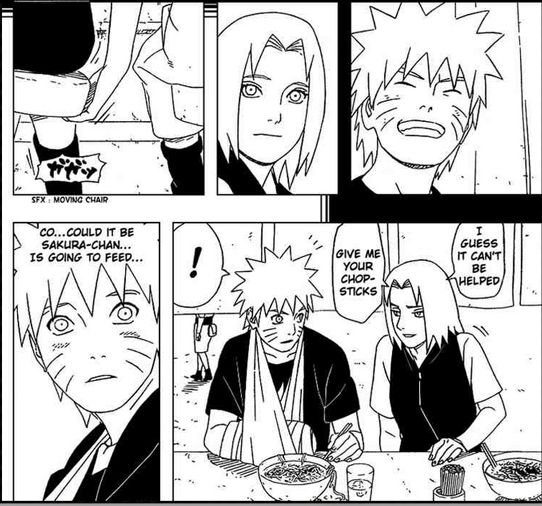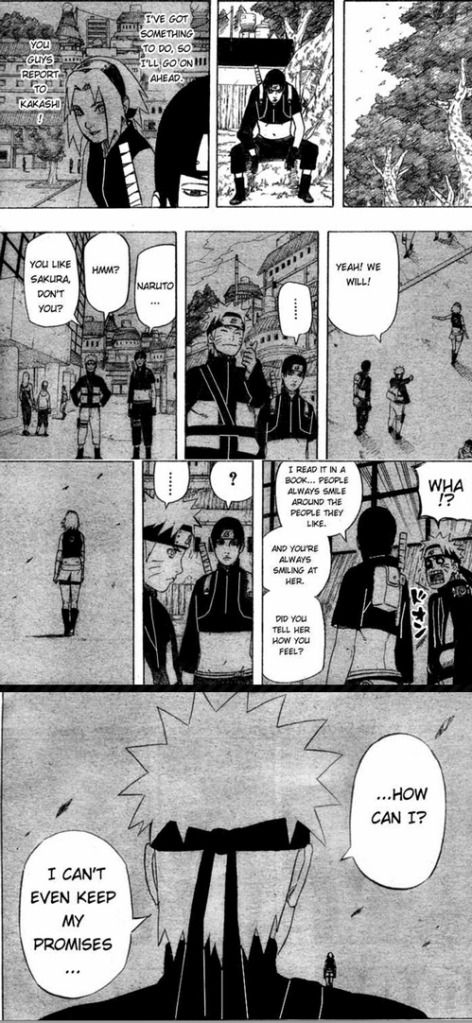 (This panel can be admiration but he's admiring Sakura *wink wink*)
MINATO: Chapter 631
This chapter sealed the deal. Minato had mistaken Sakura as Narutos girlfriend then went on to compare Sakura to Kushina. Minato did not say this out loud so it does not effect Narutos opinion on Sakura.
A couple of things to think about:

1. If MInato could see the village be destroyed by Pein and know about Jiraiyas death from being inside of Naruto, wouldn't he have known about Hinatas confession? Wouldn't Minato know about Narutos feelings?

2. Minato was a hokage. He was in a war. He knows medical ninjas on the battle field so why did he point out that Sakura is Narutos girlfriend rather than just a friend or a random medical ninjas healing Naruto? Can Minato sense something more between them than what us audience picked up? Did Kishimoto do that on purpose?

3. Minato was there when Kushina told Naruto to find a girl like her. He see's Kushina in Sakura and made a comment about Sakura being Narutos girlfriend. What is the point of that if it isn't hinting something?

Question #4. How can Naruto just say "no" to Hinata after the way she confessed? He has to like her back. 

Just like how can Naruto say he doesn't deserve to become hokage if he can't even save a friend? He earned his right to be hokage but because Narutos emotional side would feel regret and that he doesn't deserve it, he wont take it. Remember, he doesn't feel he can confess to Sakura if he can't keep a promise. If he can't save Sasuke, he can't keep his promise which means he can't confess to Sakura which means he also wouldn't feel fit to become hokage (because of Sasuke). He has all that on his shoulder. He wont just skip over Sasuke and Sakura and hop right over to Hinata. Doesn't work that way. Which is why he never said anything to Hinata for a long while about the confession. He still hasn't.

This might be taking it a bit too far but I am going to add it anyways since so many mention I should. Kushina and Sakura were both saved by the man who complimented and loved them against an enemy Uchiha who tried to kill them. Yes, I understand it was Kurama who was going to crush Kushina but he was being controlled by Tobi/Obito.
(Chapter 501:
kissmanga.com/Manga/Naruto/Nar…
/Chapter 484:
kissmanga.com/Manga/Naruto/Nar…
)
when I saw that chapter where Minato saved Kushina, I thought of Naruto and Sakura, not the other way around. There are times when I see Minato and Kushina like Naruto and Sakura. And Kishimoto has editors to point out anything that he may have used before or what it reminds them of. One of his editors could have said "this reminds me of when Naruto saved Sakura" and Kishimoto simply says "yes". We don't know. I just assume with his assistants and editors that they would point these out so they are intentional when published. If its a repeat, I do not think it is an accident.
Question #5. Hinata was the only one to fight Pein for Naruto. She risked her life for him. Where was Sakura? She could have easily have jumped in and try to fight Pein.
Sakura couldn't see what was happening. As a medical ninja during a time of crisis, she is taught to stay back and be one of the last ones to die and heal. Sakura was probably doing just that, as she was taught.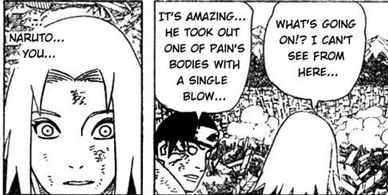 Arguments I dislike:
"Sakura hits Naruto. Naruto doesn't deserve that."
And Kushina hit Naruto. Kushina must be an abusive mother. *eye roll*
Plus, when has Naruto ever complained about Sakura? Like Minato and Shikaku, Naruto puts his tail between his legs and let the Sakura win in arguments. The only time Naruto did not tolerate Sakura was during the fake confession and in this case Sakura was not being honest with her feelings entirely. When Sakura lashes out and punches Naruto in the past, Sakura wasn't hiding any feelings and acted on them. They were 100% real emotions that she felt. She wasn't masking her feelings. The fake confession, she was. Naruto would rather have Sakura be 100% honest and true about her feelings than say what he "wants" to hear. When Sakura is honest with herself and her feelings, that is when Naruto adores her the most, even if he ends up through three walls.
"Hinata is like Minato and Naruto is like Kushina. That is what Kushina was saying"
NO. Kushina said to "find a girl like me" not "find a girl like Minato". End of story.
"The fake confession scene was Kishimoto cutting out the possibility of NaruSaku from happening."The point....you missed it...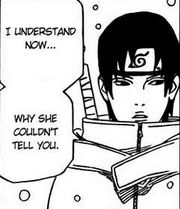 Then the point of the fake confession was overlooked. The only reason Sakura created a team and went out to Naruto was because of Narutos safety. Sakura lied to manipulate Naruto because she felt she had no other choice. Kishimoto wouldn't have just had Sakura walk to Iron country just to give a fake confession to cut out the possibility of NaruSaku, it was because Sakura was trying to get Naruto back in the village, away from the Akatsuki and also so she could handle Sasuke on her own. It was all for Naruto and Sakura was desperate and hurt.
"Hinatas boobs are bigger."
God, do I hate that argument! Kushinas are small too. >:T And Naruto isn't a shallow kind of guy. If he likes a girl, it is for who she is personality wise, not boob wise.
"Hinata was the first to encourage and support Naruto."
Manga wise, false. Hinata doesn't show up until the chunin exam. And verbally encourage Naruto, out of all the females, it was Sakura who first verbally encouraged Naruto (that we know of) and the first female to stand up on behalf of Naruto. Not to mention Sakura was the first of the rookie 9 to state she wanted Narutos dream of becoming Hokage a reality.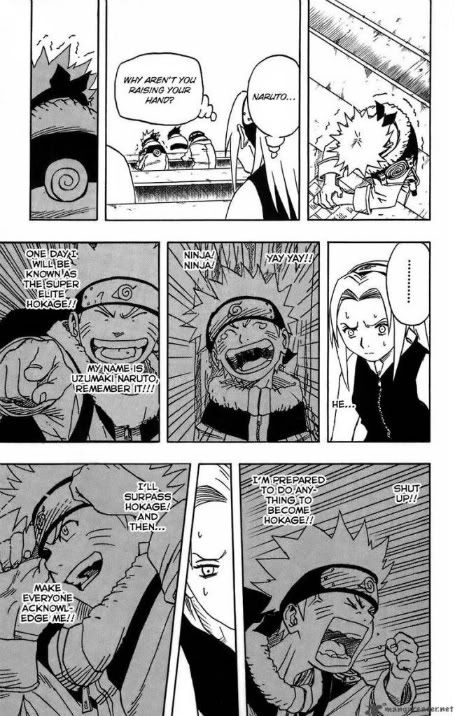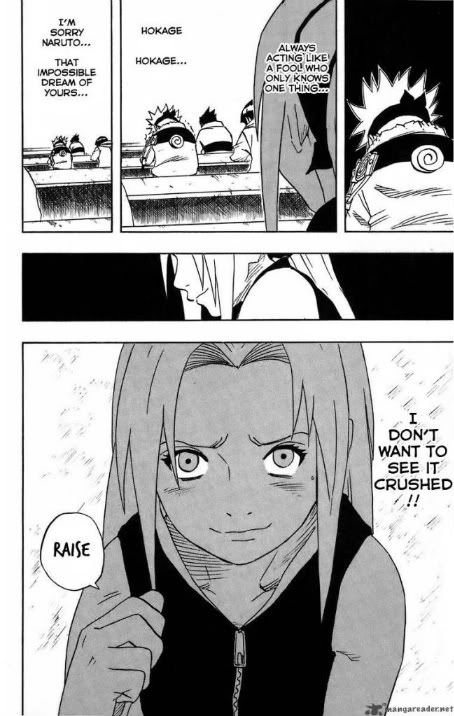 "Sakura doesn't love Naruto."
*facepalm*
"When she was younger, the one Sakura yeared for then loved, was Sasuke. Naruto was merely a nuisance, the loser who always came between her and Sasuke. But as she goes over various missions in the past, and Sakura comes to a realization. When times were hard, when she wanted to give up on life, it was always that nuisance, Naruto, who protected and encouraged her. How does she feel about Naruto? Sakura still has not found an answer."
-Kishimoto
If Naruto was just a friend or comrade, why would Kishimoto state that Sakura doesn't know her feelings for Naruto? Why would he place that in the character data book in the first place? He couldn't have put anything else in the data book or even left out the last two sentences and said Naruto has became her best friend...but he doesn't. And yes, Kishimoto stated in an interview after this book was published in Japan that Sakura really does love Sasuke...but he doesn't say that Sakura doesn't love Naruto. He knew full well what was going to happen between Sakura and Sasuke and knew Sakuras feelings and yet he still published this as Sakuras data. And yet Kishimoto does not state that Hinata loves Naruto in the data book but that Naruto is the "embodiment of potential and confidence" for Hinata. I think Naruto is more of a goal than someone as far as relationship goes and I (an opinion of mine) think Naruto knows that and feels honored but wont lie about his feelings and return them to Hinata if he still loves Sakura.
Side Notes
I am just going to throw in a couple of other things not related to MinaKush.
Jiraiya and Tsunade
I often feel like what Jiraiya failed at, Naruto will accomplish...including the girl.
Obito and Rin
Simular team setup. The loser of the group ends up liking the medical female of the team while the girl likes the cool genius who acts ignorant but changes due to the goofy idiot of the team who vows to change the shinobi ways.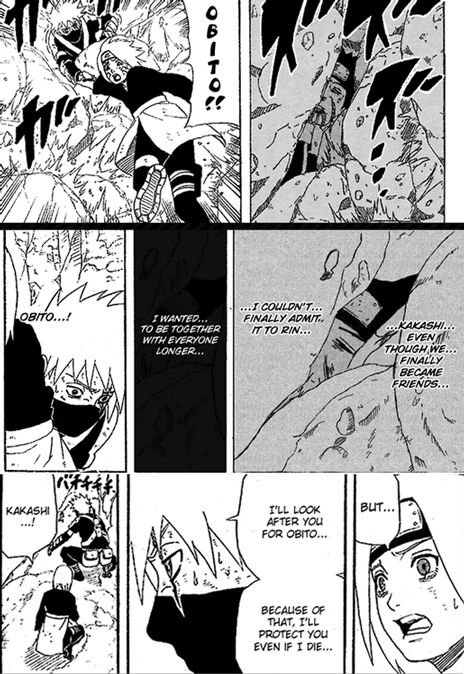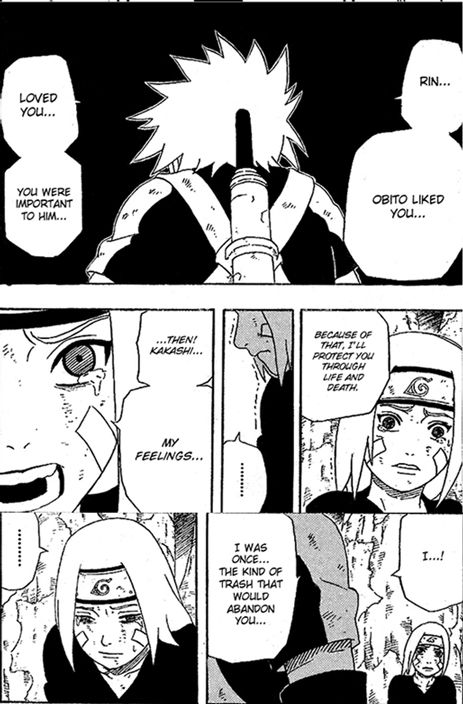 Sasuke and Sakura
Honest to God, I believe Sasuke knows Naruto likes Sakura. If Sai could figure it out, I think Sasuke knows as well.

So why NaruSaku?
Development:
The biggest thing for me is that Naruto and Sakura have development. They have experienced and seen each other cry, laugh, hurt, be rejected and knocked down and yet they don't think of each other differently. Even when Sakura was hurt by the 4-tails, Sakura never ONCE blamed or saw Naruto any differently. She knew that was not who Naruto was and that is a lot of development in Sakuras character towards Naruto. Though, when has Sakura ever judged Naruto for being the 9-tails container? Naruto took Sakuras hits but never complained. They seen and been the victims of each others arguments, punches, stupidity and ignorance and they still stand strong.
Obsessions
Kishimoto stated that Sakuras love for Sasuke was selfish. All she thought about was Sasuke and didn't care for Naruto or anyone else. I feel that same obsession with Hinata towards Naruto. Sakura had at least acknowledged that Hinata loves Naruto but does Hinata know that Naruto loves Sakura? Of not, she doesn't know Naruto as much as Sai does (which is saying something) or that she doesn't care about his feelings and thoughts on Sakura and wants him for herself. Thus is why I did not like the "holding hands" portion in the war. She is too obsessed and central on Naruto for herself and I feel like she doesn't think about Naruto and how he feels. If Hinata really loved Naruto, she wouldn't force anything and encourage him to do what he feels is right.
Naruto was willing to bring Sasuke back to Sakura even if that would hurt him the most (at the time). He's never once forced or said he would "claim" Sakura and he is wise. He is willing to let her come to him on her own if she does. That would mean she has no obligation or sorrow or choose him out of pity.
Current Standings
There is NO proof that Naruto is over Sakura. His attention is on the war and helping and encouraging his comrades while trying to save/fight Sasuke. Sasuke is #1 on his plate right now so Sakura takes a backseat...so does Hinata. As we know, for years Nauto liked Sakura to the point Sai noticed. If it is that obvious and is a repeated fact for Naruto, I don't think his feelings are going to sway over one small argument to which Sai say's "now I understand why Sakura couldn't tell you the truth.". Though, Sakura is not over Sasuke, it is also not confirmed that Sakura does not love Naruto. Kishimoto states that.
Some great quotes
"We've never seen Naruto even once go to hit Sakura back. He'd rather be beaten
within an inch of his life rather than hit her."
- Akano Kin
"Naruto gives up all of his goals to fufill Sakura's. She sees the human side that needs
to be cared for."
- Keyes
"Why DO we like Narusaku? Simply because of their interactions and continual
development throughout the series"
- Pepilia
"Naruto and Sakura are very similar. The relationship is built not just forced. The
support they show for each other is just amazing."
- Keyes
"One of the major reasons I support the Sakura/Naruto pairing is that they can be
who they are around each other, no masks."
- Tyrconnell
"Sakura can find strength and determination in Naruto, and at the same time, Naruto
can find wisdom and maturity from Sakura."
- Arsene
"The greatest thing about Naruto & Sakura is that they have the ability to be romantic
even without being overly sappy & amorous."
- Arsene
"Hinata even smiles when Sakura hugged Naruto. When Sakura was hugging Sasuke,
Naruto was torn up. It's different feelings."
- candleguy
"Naruto has loved sakura throughout the entire series. So that ends that argument
right there."
- Dalton
"From the whole course of the manga, he just likes Sakura more than any girls and
some people tends to forget that."
- Anguyen92








BEFORE YOU COMMENT!

1. Yes. I know there are differences between the characters
2. Yes I know there are similarities with Hinata
3. No I am not saying this is poof as NaruSaku being cannon
4. Don't twist my words or take it literally
5. I don't care if NaruHina happens
I just want Naruto to be happy and loved in the end


You may proceed to comment if you wish.
EDIT 2: I will hide all ridiculous comments