Edit 3: Sai and Guy! I like Sais new look.
EDIT 2: Sakuras parents are revealed!

was right. I have yet to see the official release sketches but LadyGT found some in a trailer back in April (see image below-middle 2 images). Sakuras parents names are Haruno Kizashi and Haruno Mebuki. If anyone finds more info, let me know.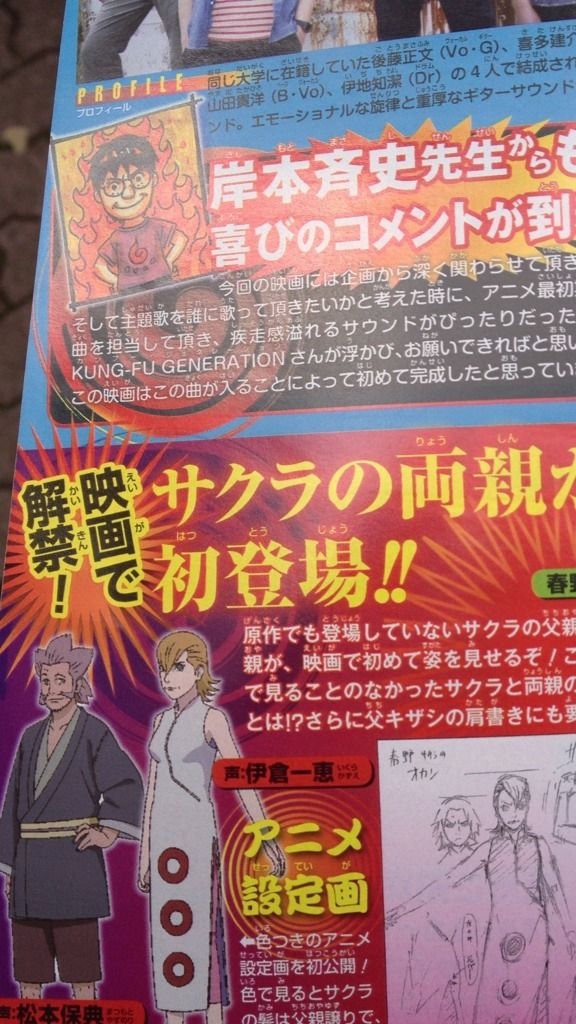 So Sakura gets the pink hair from her father!

And her mother is taller than her father AND Sakura seems to get her attitude form her mom while her dad seems more light hearted.
---
:edit: I am going to put my 2 cents into this. read below if interested.
Apparently there is more info on Road To Ninja.
Sasuke is OC and it is an AU environment.
Is that some kind of wedding ring Sasuks is wearing? Or just a ring for decoration? He's probably going to be the popular guy who all the girls after him (as usual) but this time around, he's probably going to be a flirt back. Who knows, maybe he will like sweets in this too and Tomatoes are his least favorite food!
This Sasuke....I like. XD Naruto doesn't look happy about it though.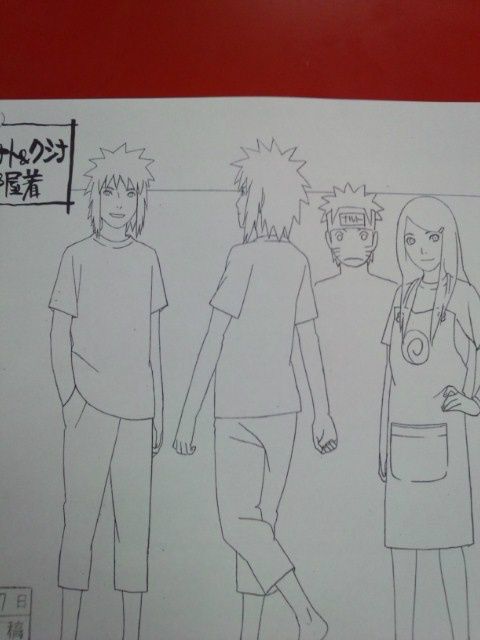 Translation:

"Sasuke: A playboy through and through, in expression and stance, in clothes and accessories."

"Hinata: A strong-minded Hinata with a wild temperament! Very sexy, she boldly displays her cleavage!"

"Kakashi: With his eyes wide open and his fists trembling, a somewhat hot-blooded Kakashi sensei."

"Shikamaru: With his slovenly expression, he looks like he's not thinking anything at all…"

The Gai and Kakashi pic:

"Gai: Unmotivated. Too indifferent. Cool."

"Kakashi: A left-right reversal of the eyes. Always sporting the sharingan. Gets exhausted easily. Reads serious books."

The note below:

"The exact opposite of their original characters!? A Gai with no ambitions and a vigorous, enthusiastic Kakashi. In Kishimoto-sensei's notes there is a little explanation about these two!"

"In the next issue we'll introduce some more of Kishimoto-sensei's rough sketches!"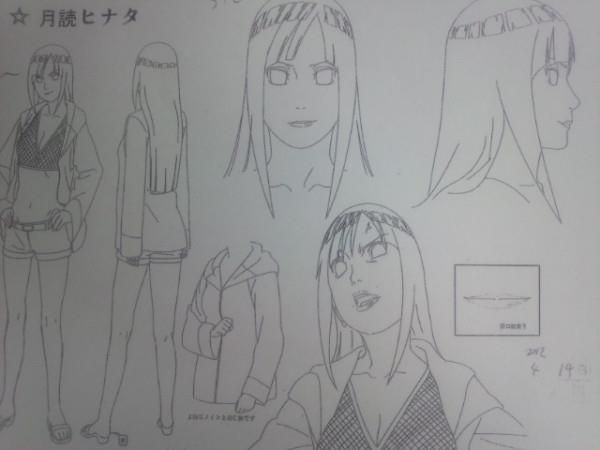 Sasuke and Hinata don't have headbands to represent the Leaf Village...


I LOVE IT ALL! It's like Kishi read all the Fanfictions in the world and condensed the main themes!


Except SasuNaru. Where is my Yaoi?

My 2 cents:

Fist off guys, chill.

It' is a movie. Sure, Kishi is directing it but you need to think about it from a different standpoint if you are going to freak out.


The basis of almost all stories start out as an introduction, something that makes the viewer understand what exactly is happening or to lead up to that. Then there is plot, something that causes disturbance in the characters life which creates tension. Then they try to overcome the situation and usually ends with them overcoming it and everyone ends up back where they started from the beginning but they "learned" something from it. During Blood Prison I kept saying "Narutos innocent. He's going to fight back. Gain friends and allies including that white haired girl. We will learn her sad story. Things will climax. Naruto is going to fight the bad guys head on. Win the heart of the girl. Things will end well in Narutos favor and everyone will be there. The end". Think about all the Shippuden movies based on this fact. Its not just Naruto, it is almost all movies too. Take Avengers for another example. A bad guy shows up, things happen, they come together to fight, it seems like all is lost until the last minute and then they win. They learned in the mean time how to fight alongside one another and to use each others strength and weakness in battle. It's a typical story plot. If this new Naruto movie has a huge plot twist, I will be really surprised but the fact is: Naruto will win and overcome whatever is thrown at him. Sakura will to.

To sum it up with the movie:
What the picture with AU Sasuke could be an example of something that "could" happen, that we or the characters think is better but ends up not being as pleasant as we think. I think Sakura ends up not enjoying this kind of Sasuke. She enjoys it at first but if you think about the basis of movies, Sakura may learn that the Sasuke she always dreamed about doesn't fit him, it's not who Sasuke is. Then does she really love the Sasuke out to destroy Konoha or a projection in her mind of who she wants him to be? Sasuke is being used as comedy relief it seems, something for Sakura to learn from. Wether Sakura learns that she really loves the real Sasuke or she realizes that she knows nothing about the real Sasuke and the Sasuke she always wanted was in her dream. I like to think it is the latter.


If that still doesn't make sense then how about this:
Naruto always wanted to become Hokage to be recognized and to be noticed. Does Naruto want to become Hokage for that reason now? No. He realized that the projecting of what and who the Hokage is has changed based on his interactions and situations in his life. He realizes what becoming Hokage really means. Does he still want to be Hokage? Yes but for different reasons now.





Check what group this is submitted under!

For some off reason I kept getting people from other pairing fandoms coming here. If you write a stupid comment towards NaruSaku, expect to get a comment back even in negative form and don't cry a river over it.